Full Facepiece Reusable Respirator 6900 Large
• Large lens provides a wide field of view for excellent visibility
• Lightweight well-balanced design and silicone faceseal for enhanced comfort, durability and ease of cleaning
• Available in air-purifying and supplied air respirator modes
Article number:
6900
Availability:

In stock

(8)
Available in store:
Check availability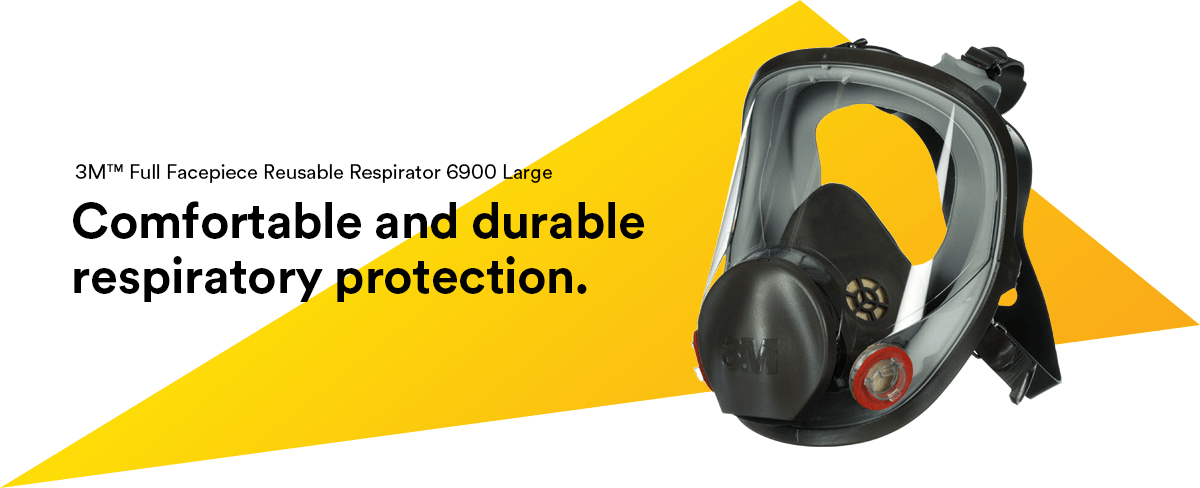 Designed to help protect your workforce from specific airborne contaminants.
Durable protection
The 6000 Series full facepiece respirator is crafted from lightweight, yet durable materials and features a soft silicone face seal that conforms to the wearer's face, along with a wide lens for visibility and eye protection.

Reliable comfort
Equipped with our proprietary 3M™ Cool Flow™ Valve and a unique center adapter that directs exhaled breath and moisture downward while reducing the occurrence of dirt and debris collecting in the valve.

Versatile configurations
This full-face respirator is compatible with a wide range of 3M filters, cartridges, and powered and supplied air systems making it a go-to choice for safety managers.
Lightweight well-balanced design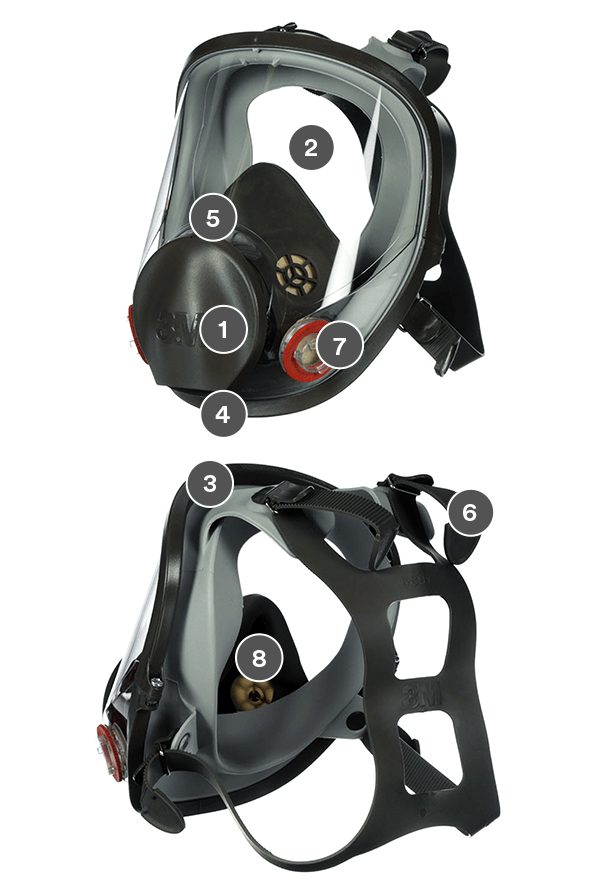 1. Unique Center Adapter
Directs exhaled breath and moisture downward while reducing the occurrence of dirt and debris collecting in the valve
2. Large lens
Provides wide field of view and excellent visibility
3. Silicone faceseal helps provide comfort and durability, and is easy to clean
4. 3M™ Cool Flow™ Valve
Helps reduce heat buildup inside the respirator
5. Smooth Surface
Allows for quick and easy cleaning
6. Four-point harness provides a secure, comfortable fit
7. 3M™ Bayonet Connection

8. Meets the requirements of the ANSI Z87.1 standard, high impact level for eye and face protection
Specifications
Cartridge or Filter Included

Compatible with 3M™ PAPR Systems

Compatible with 3M™ Supplied Air System

Compatible with Welding Shield

Cool Flow™ Exhalation Valve

Dual Airline supplied air compatible

, Large lens for enhanced field of view

Defense

, Homeland Security

Silicone

, Thermoplastic Elastomer (TPE)

Silicone/Thermoplastic Elastomer

Full Facepiece Respirators

Assembly and Mechanical

, Chemical Clean-up

, Chemical Handling

, Chemical Splash

, Chipping

, Chiseling

, Cleaning

, Composite Finishing

, Final Finish

, Furnace Operations

, Grinding

, Laboratories

, Machining

, Masonry

, Paint Preparation

, Painting

, Pouring/Casting

, Sanding

, Sawing

, UV Protection

, Welding

Construction

, Design & Construction

, Food and Beverage Manufacturing

, General Manufacturing

, Heavy Industrial

, Industrial Maintenance

, Marine

, Mining

, Oil & Gas

, Pharmaceutical

, Transportation
0
stars based on
0
reviews